AXA Term Protector Premium Discount Campaign
The future of your loved ones is in your hands. Protect them with AXA TERM PROTECTOR or AXA TERM PROTECTOR PRIME with selected riders and enjoy 20% perpetual discount when you sign up between now till 30 June 2021.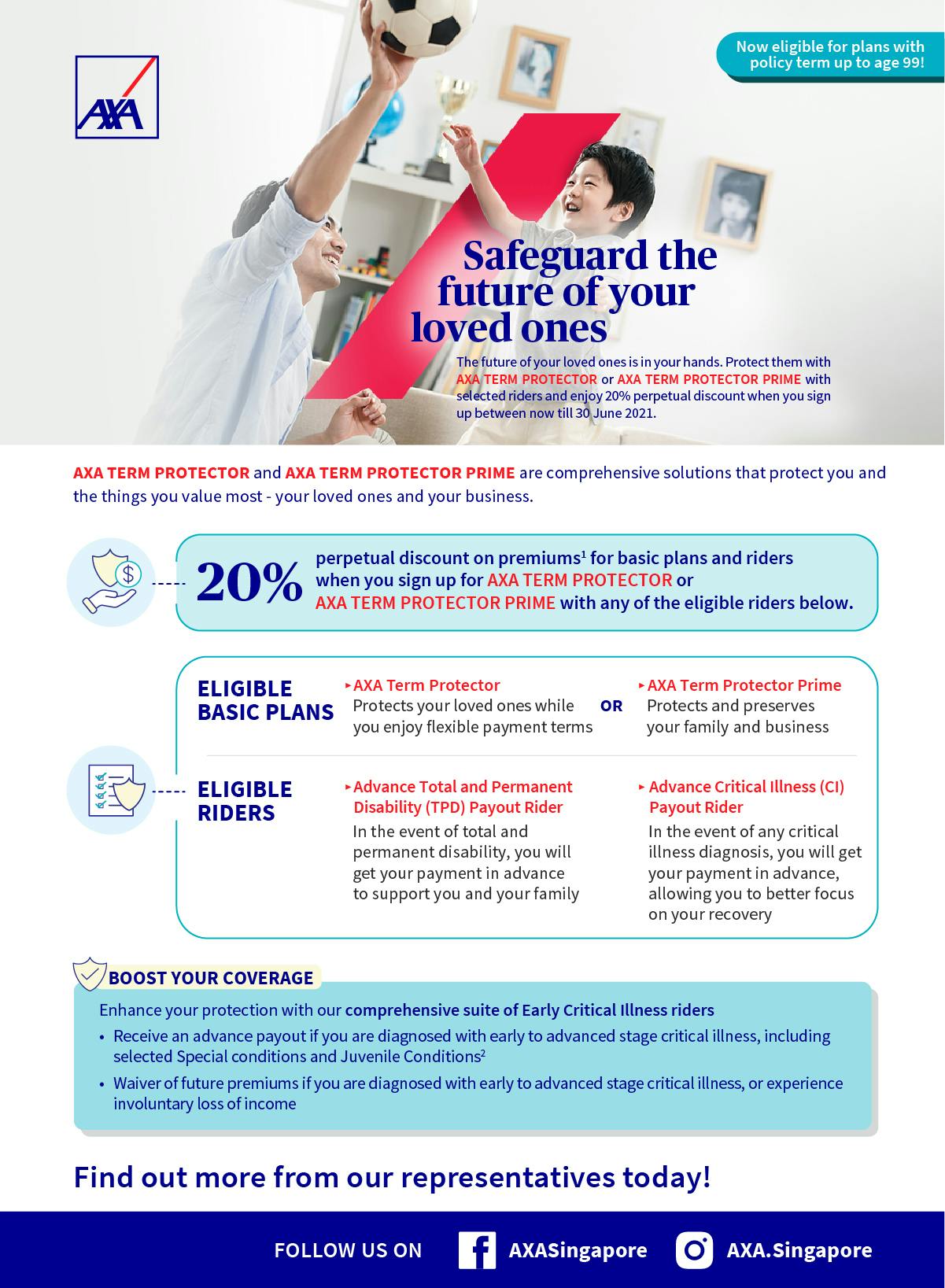 Footnote
All plans, including riders, must be made by regular premium payment term.
An additional amount equivalent to 10% of the original Sum Assured of the Early Critical Illness Payout rider, subject to a maximum of S$25,000 per Life Assured for each Special Condition or Juvenile Condition. The list of medical conditions covered can be found in the product summary.
Terms and conditions
AXA Term Protector Premium Discount Campaign Terms and Conditions
This promotion is applicable for all new applications submitted and received by AXA Insurance Pte Ltd ("AXA") by 30 June 2021. The relevant AXA policy (or policies) must be incepted by 30 September 2021 to be eligible for this promotion.
This promotion is applicable for all premium payment modes (monthly, quarterly, semi-annual, annual) of the Eligible Plan(s).
All decisions made by AXA in relation to this promotion (including the interpretation of these Terms and Conditions) shall be final and binding on all participants of the promotion. Appeals will not be entertained.
AXA shall not be liable for any liabilities, losses, damages, costs and expenses in relation to this promotion.
AXA reserves the right to vary the Terms and Conditions, including withdrawal or termination of this promotion at any time without prior notice.
In the event of any dispute that arises in relation to this promotion, AXA's decision will be absolute and final.
Important Information
AXA Term Protector and AXA Term Protector Prime are plans underwritten by AXA Insurance Pte Ltd. This advertisement is not a contract of insurance and not for use outside Singapore. The precise terms and conditions are specified in the policy contract. This advertisement is for your information only and does not have any regard to your specific investment objectives, financial situation or particular needs. You may wish to seek advice from a financial consultant before making a commitment to buy the product, and if you choose not to seek advice, you should consider whether the product is suitable for you. Buying a life insurance policy is a long-term commitment. An early termination usually involves high costs and the surrender value payable may be less than the total premiums paid. A Product Summary is available and may be obtained from a financial consultant representing AXA. You should read it before deciding whether to purchase the policy. Protected up to specified limits by SDIC. This advertisement has not been reviewed by the Monetary Authority of Singapore. All information is correct as of 26 April 2021.